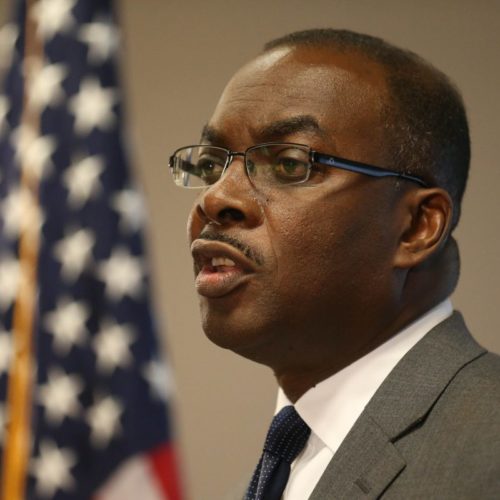 Byron William Brown is the 62nd and current mayor of Buffalo, New York, elected on November 8, 2005 and is the City's first African-American mayor. He previously served Western New York as a member of the New York State Senate and Buffalo Common Council. He was the first African-American politician elected to the New York State Senate to represent a district outside New York City and the first member of any minority race to represent a majority white New York State Senate district.
The Mayor resides at 14 Blaine Ave. with his wife Michelle and son Byron, Jr.. He may be emailed at mayor@city-buffalo.com or called at 716-851-4841.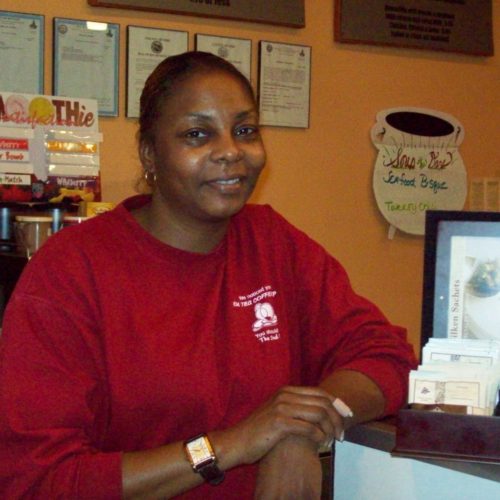 Kat and the Em Tea Coffee Cup Cafe are a staple of the Hamlin Park neighborhood. She opened the cafe after she graduated from Buffalo State College, and it has long been a space of safety and inclusion. Kat always tells new entrepreneurs "Before opening a business, come and see me. Some people want to open a business, but they really have no clue. There's always going to be conflict. And for those people opening new businesses — especially minorities — there are not a lot of mentors out there. So come in here and ask me questions. If I don't know the answer, I will know someone who knows the answer."
Kat resides at 370 Humboldt Pkwy.. She can be emailed at emteacoffeecup@gmail.com or called at (716) 884-1444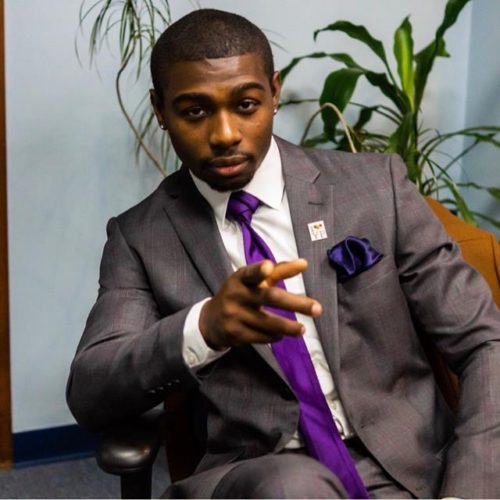 Deyron Tabb is a co-founder of Unity Is Our Wealth, a corporation devoted to group economics in ignored communities. Mr. Tabb has held several community centric positions, such as the External Resource V.I.S.T.A. with the Buffalo Employment & Training Center, a Partnership with AmeriCorp and Citizen Services of Buffalo to build internal capacities to eradicate poverty. Prior to this, De'yron worked as a Commercial Electrician with the IBEW Local #41 Electrical Union. He has worked on some of Buffalo's most transformative projects, such as Solar City, now Tesla. He has also worked with the Student Conservation Association to protect and promote education of the necessity to defend local wild life and indigenous vegetation.
Mr. Tabb lives and breaths community empowerment. He resides at 183 Florida St.. Mr. Tabb can be emailed at deyron13@gmail.com or called at (716) 939-1665.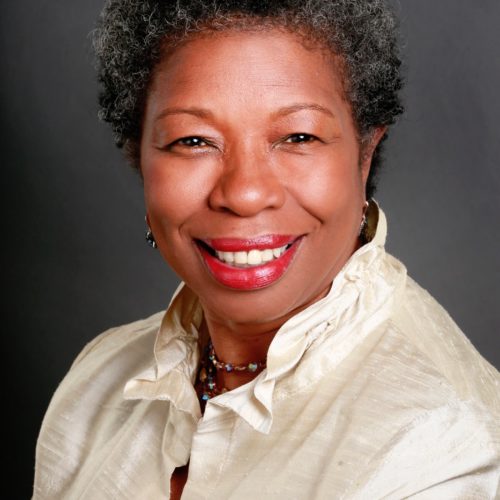 Rita Hubbard-Robinson, the CEO of NeuWater & Associates, LLC, has been committed to the improvement of health and social determinants of health for over 30 years. Currently, under contract with Millennium Collaborative Care, a NYS Medicaid reform project, she works with community based organizations in WNY to connect individuals to healthcare and wellness services. An advocate for both communities and youth, Mrs. Hubbard-Robinson earned her juris doctor from UB School of Law and Jurisprudence and attended the University at Binghamton as an undergraduate. She is also the wife of 30+ years to Mark E. Robinson and the mother of two, Jason and Journée.
Mrs. Hubbard-Robinson resides at 18 Beverly Rd.. She can be emailed at rhr.1@hotmail.com.
Mr. Rogers is an attorney and urban planner admitted to practice law in New York State. He is interested in equitable urban redevelopment, land use, economic development, municipal finance, building walkable neighborhoods, preservation, adaptive reuse and rehabilitation of historic buildings and the associated legal issues. He currently works at Borrelli & Yots PLLC, primarily focusing on on historic tax credit syndications and real estate transactions. He is also a co-founder of Urban Vantage LLC an urban planning and real estate development consulting firm as well as several related projects, including Common Owner Portals LLC.
Mr. Rogers resides at 18 Pleasant Pl. He can be emailed at rich@urbanvantage.com or called at (716) 969-0242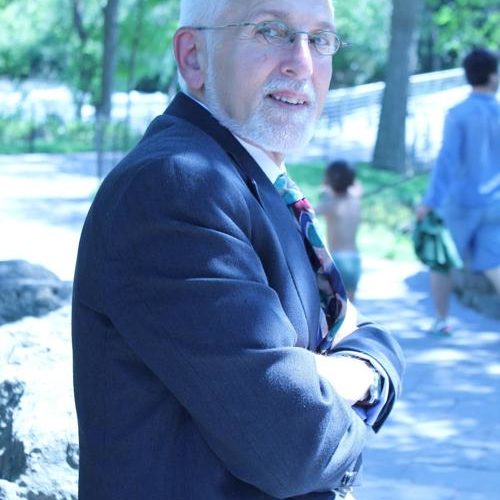 Tom Yots has enjoyed a long career in historic preservation. Mr. Yots established Preservation Studios in 2002 after completing his Master's Degree in Architecture from the University at Buffalo's School of Architecture and Planning. Since that time, he has been actively involved in his local preservation community as both a concerned citizen and preservation consultant. Mr. Yots has consulted on numerous historic rehabilitation projects of various sizes with a wide range of clients including small not-for-profits, professional real estate developers, local municipalities and neighborhood block clubs.
In late 2016, Tom came out of retirement and rejoined Preservation Studios as the Director of Municipal Services, working with villages, towns, and cities to establish or refine preservation ordinances and guidelines and administrate surveys and grant applications. Tom and his wife, Louise, live in Buffalo in Hamlin Park. They have two sons, Jason in Buffalo and Ben in New York City and five grandchildren.
Tom's Email: tomyotspreservation@gmail.com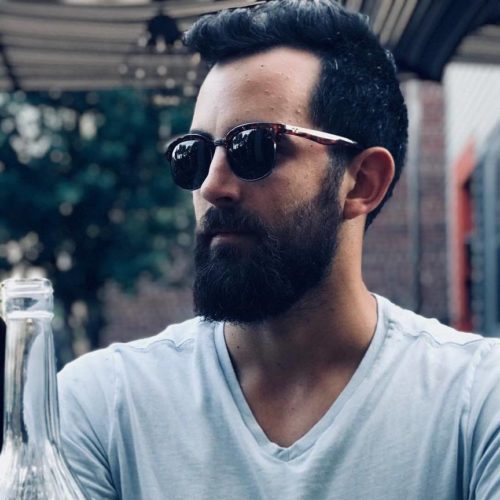 Mike works directly with developers and architects to formulate comprehensive rehabilitation plans that conform to the Department of the Interior's Standards for Rehabilitation. He joined Preservation Studios in 2011, became a partner at the company in 2013, and holds a B.A in Environmental Design with a minor in Architecture from the University of Buffalo. Michael is active in his historic neighborhood of Hamlin Park where he works with long time residents to continue beautification and stabilization efforts. He purchased a home from the city's demolition list in the historic district and has been lovingly restoring it since 2014.
Email Mike at mikepuma@preservationstudios.com
Derek joined Preservation Studios in 2012, becoming a partner at the company in 2013. Originally from New Hampshire, he quickly grew enamored with the interesting histories tied to the many beautiful buildings in Buffalo. He is an Executive Board Member for the Citizens for Regional Transit (CRT), as well as an active member of Buffalo's Young Preservationists. Derek has a B.A. from St. Lawrence University in Canton, NY, double-majoring in History and Anthropology with a minor in Global Studies.
Derek resides at 179 Florida St.. He can be emailed at derekking@preservationstudios.com or called at (716) 725-6410.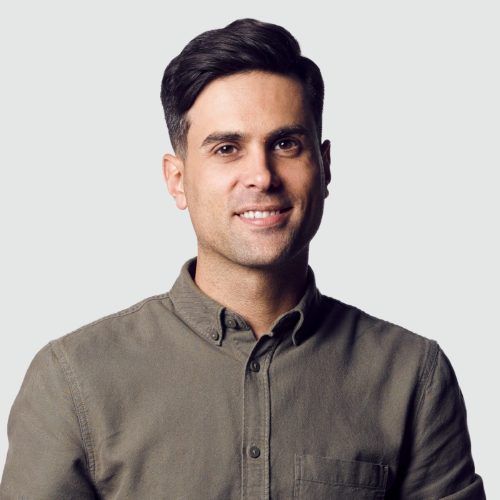 A natural communicator from early on—"talks too much" appeared on many report cards—Pat grew up to develop an interesting media career. At Westminster College, the Pittsburgh native worked in campus radio and executive produced a weekly, live TV show. After earning a B.A. in Broadcast Communications, Pat started his career as an NBC Page in New York City, and later became an award-winning senior producer of digital video for iVillage.com/NBC Universal. Now for The Martin Group, Pat lives at the intersection of ideas and execution as a client liaison for Perry's Ice Cream, Galbani Cheese, Buffalo Medical Group, and others. Outside of work, Pat cultivates his green thumb as a proud plant dad while he and his husband highlight their household adventures on YouTube.
Pat resides at 50 Hedley. He can be emailed at hello@psncreative.com.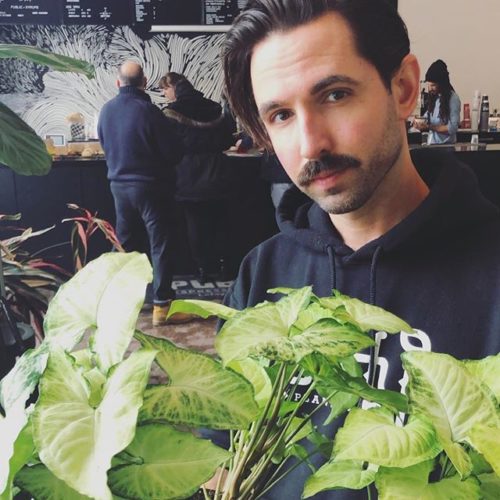 After receiving his bachelor of fine arts from the University at Buffalo, Billy and his husband Pat have built their social media following from nothing to the coveted status of influencer. They make videos about relationships, travel, lifestyle, home repair and DIY and more. Using that influence, Billy and Pat have launched the successful plant shop, Daddy's Plants, which Billy runs full-time.
Billy resides at 50 Hedley Pl.. He can be emailed through the Daddy's Plants page (click the world button below).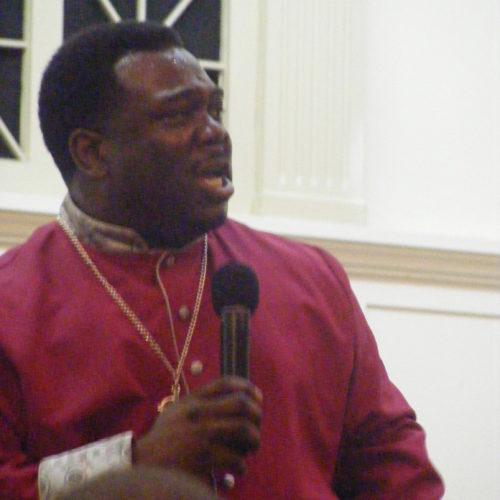 Apart from his work for the Masten District, Pastor Brown is also the Senior Pastor at Mount Zion Baptist Church in Niagara Falls, NY. He can be emailed at tjbrown@city-buffalo.com or called at (716) 851–5145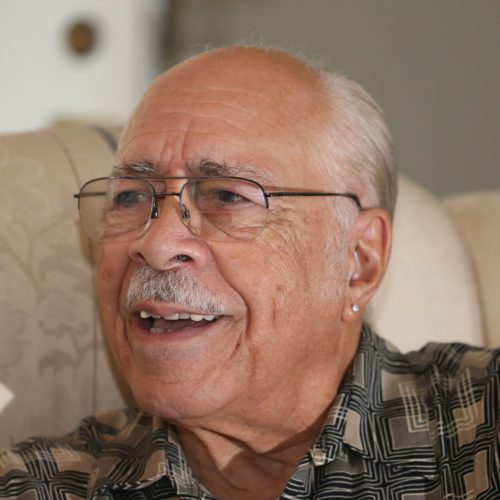 Clifford Bell has more than 55 years of experience in church, public, business, and community involvement in Buffalo and around the world. Throughout his life, he has been known to the people of his community as Brother Bell, and most widely recognized as a former City of Buffalo Councilmember.
He is a successful entrepreneur, who has owned and sold two businesses, a sporting good store and a dry cleaning business where he worked for more than 50 years. In 2019, Bell retired from his position as senior counselor with the New York State Small Business Development Center at Buffalo State College.
He has been married to Helaine Tucker since 1955. They are the proud parents of two children, three grandchildren and two great-grandchildren. He resides at 108 Gillette and can be contacted by requesting an introduction by Third Estate Analytics' Staff. At 89, Brother Bell enjoys being off the technological grid.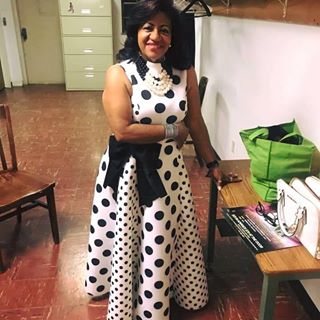 Mrs. Harris-Harvey is a retired Optician. Currently, she serves as the President of the Trinidad Neighborhood Association, and runs a non-profit Community Outreach Ministry called "Spiritual Connections." She has been conducting Outreach Ministry Services to aid the elderly, the sick, disabled, veterans and youth in my community for many years. Mrs. Harris-Harvey has a son, Ronald, who lives in Brooklyn N.Y., and a daughter, Michelle, who resides in Seattle Washington with her husband and three children.
Mrs. Harris-Harvey can be emailed at eharrisharvey@gmail.com.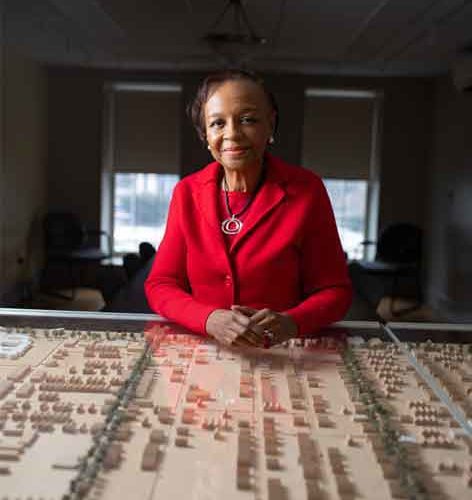 Mrs. Barber-Geter is the Director of the Head Start Partnership at Buffalo State College. However, she is also well known for her role as the President of the Hamlin Park Community & Taxpayers Association.
Ms. Barber-Geter resides at 174 Blaine Ave. with her husband, Edwin. She can be emailed at barbersa@buffalostate.edu or called at (716) 878-5907.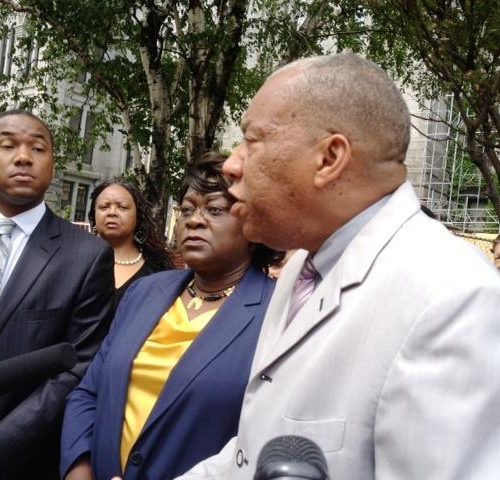 Most people, when recalling the activities of Charley H. Fisher, III, remember him as the City of Buffalo, New York Councilmember-at-Large whose oratory and speaking abilities were legendary. But before and after his tenure as an elected official, there are tons of other significant achievements like the time he laid down in front of a garbage truck protesting the User fee.
Charley graduated from Canisius College where he was the editor of the Canisius College student newspaper. Over the years, his political career ranged from Chief of Staff to New York State Assembly Deputy Director to Councilman-At-Large for the City of Buffalo.
Charley resides at 254 Humboldt Pkwy.. He can be emailed at chfisher3rd@yahoo.com or reached via his cellphone (716) 650-8889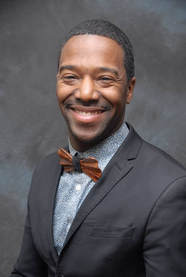 Mr. McDuffie began his career in government as a Legislative Assistant to a city council member. He was then promoted to Chief of Staff. In June 2005, Mr. McDuffie resigned from his post as Chief of Staff to attend the University of Miami School of Law, which has subsequently named a Public Fellow. Mr. McDuffie was admitted to the New York State Bar Association in January, 2014.
Rashied resides at 183 Brunswick Blvd.. He may be emailed at rashied.mcduffie@gmail.com
or called at (716) 851-5580.